---
Over the Hill
Today's stretch is rather short. All we have to do to reach Khumjung is walk over a hill. Khumjung, where we stay in Purba Tashi's lodge sits on a high plateau over Namche. Purba is our Sirdar and a close friend of Russel Brice. A sirdar manages all Sherpas during an expedition. We are proud and sort of blessed to climb with Purba who has summitted Everest 21 times.
Not so strenuous a duty, leaving enough energy for crazy pictures: the "Rainbow Team"
Khumjung was also affected with heavy devastation during the 2015 earthquake: Cracked Gompa
Our head cook Lacchu with his overwhelming smile. His efforts keep us in pristine health. One bad meal and you are out of the game here. Thanks Lacchu for taking very good care.
A rather old gompa with Ama Dablam in the center background and ice-covered Lhotse Shar in the left background.
Khumjung village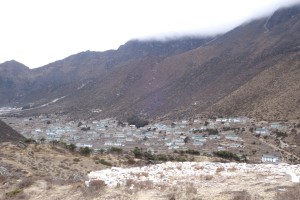 Near Khumjung is the famous Everest View Hotel, where we had tea. And Everest just popped-out of the clouds showing her summit with the terrifying Lhotse south face on the right.
Paying a visit to Khumjung Monastery, we received a Puja for our expedition given by 16 monks. This is unusual, however after the Discovery Channel film team made a donation for their permission to film, the monks agreed to hold a Puja for the Himex Everest Team. A very touchy and heart-wrenching moment.
Khumjung Monastery
Tashi Delek
Andreas