Good bye Hyatt
Very early, at 5:30 AM, kit bags were gathered and the first of three groups was ready to leave Kathmandu for a helicopter ride to  Lukla. I felt not only excited about the helicopter flight but as well could feel a humble respect for what lies now ahead of me. Chomolungma, the Tibetan name for Everest, seems to have started to link herself with me. Everest, Mother Goddess of All.
Also climbing members of the first group needed to be ready to leave early: left to right Hardeep (Kenia),Semba San (Japan), Andreas, Creg (USA), Jaco (NL)
My ticket to Lukla.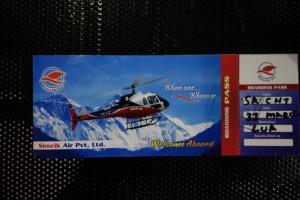 The bird which took us to the Khumbu.
Birds eye view, flying eastbound in hazy air.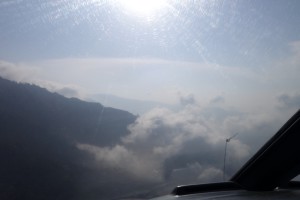 Paying a visit to the local market in Lukla before tracking in to Monjo, our first stop.
Would you buy this meat? Not so sure…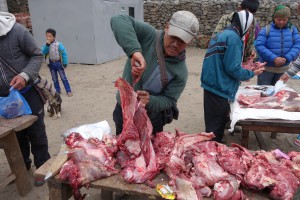 A huge Mani stone and prayer wheel which I turned to wish us good luck.
Bridge to a village before Monjo.
Vegetable cultivation
Tashi Delek
Andreas