Lobuche East 6115 m – first rotation
Having been out of touch for some days with no communications at all, we have completed the Lobuche stage of acclimatisation with two climbs. Our first rotation started from the so-called rockcamp to the east summit.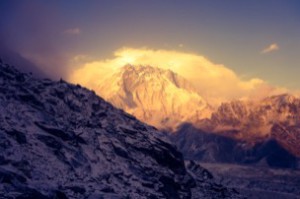 It was a hard and strenuous climb and technically challenging. We had to negotiate steep sections of window glass hard ice. Demanding rock sections in the lower part of the mountain took it all from us. Not an easy mountain to acclimatise. But a good training for the Lhotse face on Everest.
Second rotation
After the first summit we descended all the way back to base camp where we were welcomed by Mama and Puri Sherpas. They had lunch ready. Delicious as ever. What a dream team these two. The rest of the day had a simple focus: recuperating. Which means resting, drinking and eating. The next day was a complete rest day before the second rotation to the summit. This time starting from Lobuche base camp to the east summit.
Well rested and goal minded, the team left base camp at 6 AM and reached the summit at midday 12h.
The summit is a little plateau with sheer drop-offs to all sides. If one stumbles, it is a fatal flight.
We had to keep this in mind as we had to spend time on the summit. Five tents were put-up by our sherpas.
We crawled into them, made a brew, had some food, enjoyed the vistas
and….waited for nightfall. The night was cold and windy, however to leave at 7:30 AM the next morning was some sort of relief. As other teams worked their way up, we abseiled towards them and passed them. Three hours later we were back in Lobuche base camp for a late breakfast. This was not the end of our day.
Sleep high
We slept high at an altitude of 6115 m which is not a funny adventure. One feels the altitude intensely. An altitude for which the human body is not made for. So with Lobuche base camp sitting at 4900 m, it is too low an altitude to benefit from the time spent above 6000 m. Hence, after descending the goal was to return to Everest base camp. This means another 3-4 hour walk. EBC sits at 5490 m which provides more benefits in terms of acclimatisation.
Reaching EBC with all its amenities was like a home sweet home feeling. Dead tired but very happy to be welcomed by our "Big Boss" Russ and the sherpa team.
In retrospect, Lobuche East is a challenging mountain and certainly not a nice Sunday morning walk. It taught us precious lessons for our ultimate goal: Sagarmatha, the Sherpa name for Mount Everest.
We will now stay in EBC for the rest of the expedition. Before climbing into the Western Cwm through the treacherous ice fall, we enjoy several rest days. There are two distinguished events. First is the Puja held by the Sherpas on Thursday. The second one is training in the lower part of the ice fall which is called popcorn field. The focus is on crevasse crossing using ladders and ice climbing.
My next blog will introduce you to our base camp here at Everest. I will cover various subjects which provide you with an in-depth overview.
Tashi Delek
Andreas