Leaving Monjo
Our second stage led us from Monjo to Namche Bazar,which is the Sherpa capital of the Khumbu. In meters it means we leave at 2740 meters to 3300 which means a vertical altitude gain of 560 meters. As Russel Brice, our expedition manager, likes to get up very early, we all had again the kit bags ready at 7:30 with the alarm set to 6:30. What was meant to be a vacation, but in the Himalayas it seems to be a little different.
Yaks waiting for our loads to carry them to Namche Bazar.
Mountain view on our way to Namche
Expedition bottle
Suspension bridge over Dudh Khosi river whick means milk river.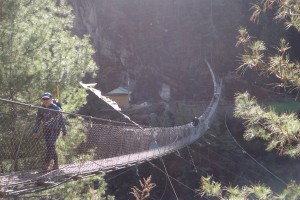 Looking back to Monjo which sits in the middle of the picture, left of the rock.
Just below Namche Bazar we were able to spot what we aim for: Everest still very far away showing a gigantic so-called plume. The plume is a gigantic ice cloud formed by jet stream winds literally rasping away the summit at speeds often greater than 100 miles per hour.
Team members in Namche in good mood, ready for lunch.
A mouthwatering German dish.
Mountains towering over Namche.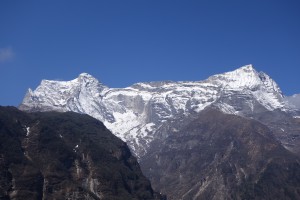 Panoramic view of Namche.
Tashi Delek
Andreas