Certainly, my own legs driven by sheer willpower brought me to the summit of Everest. But they would be useless without the help of a few teammates who made this possible by contributing in an unbelievable way: our Sherpas.
The climbing Sherpas did not lift me across their shoulders and carried me up the hill. But they did other important things which are essential for Western climbers: route fixing, load carrying, setting up and taking down high altitude camp sites, assisting and guiding on summit day. Their portfolio of helping is endless and I mustconfess that without their support the number of Westerners on the summit of Everest would be drastically lower. And this includes me.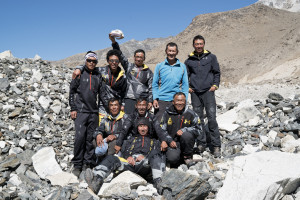 My body also needed fuel to make it up the mountain: power food, rich in calories and carbs. Not boring, canned and boil-in-the-bag plastic food. Fresh, delicious, versatile and healthy food: the mighty expedition cooks.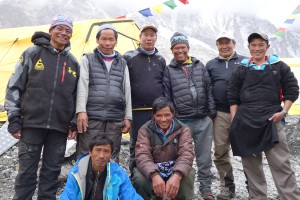 Their creativity and innovation turned every meal into a breathtaking surprise. They provided the foundation of my success. Puri Sherpa, left in above pic, is particular in as much as that he agreed to literally live in Camp 2 at an altitude of 6450 m for as long as four weeks to cook and cater for us during our acclimatization and summit push. I felt so relieved to see his fantastic smile each time I pulled in at C2. Let alone his delicious food he prepared for the team. What a contribution he made. My thank you for you, Puri Sherpa is just not enough….
Each climber gets assigned a summit Sherpa for the summit push. No, we did not hold hands, but literally he is your umbilical cord of safety. He knows the route to the top, its delicacies and how to negotiate key passages. And has the power to turn you around if things go awry for some reason. And leave you behind in case you don't want to descend when it's advisable. Why should he die for and with you? He has a family who awaits him.
This picture shows Son Dorje Sherpa, my assigned summit Sherpa, on the summit of Everest. A paragon of willpower, experience, knowledge and courage. He lives in Phortse and Kathmandu. I like his summit picture as it transmits precisely the harsh conditions on the summit. Thank you Son Dorje, for guiding me to the top of Everest. And for the coincidence of having the summit for us alone that day.
Every expedition needs a manager. With a busload of experience, patience, calm and prudence. With a management style that is crystal clear and considers all circumstances to come up with the right decisions. A person you trust like a child. With Kiwi Russell Brice and Phurba Tashi Sherpa we had two strong managers who made us feel safe and in good hands. A dream duo.
And then there is a whole bunch of porters and yaks who carry our gear to base camp and certainly down valley again. What if I had to shoulder my gear and bring it to BC? Unimaginable…
My gratitude goes to the SPCC icefall doctors who fix, check and maintain the route through the notorious Khumbu Icefall, the bottleneck between base camp and Western Cwm. An unbelievably dangerous task which still sends shivers down my back.
These are the people behind the scene. We must not forget them. It makes me proud of having had the honor to climb with them.
They deserve my many thanks.
This concludes my coverage of the MountainProjects Everest Expedition 2016. Many thanks for your interest and following me on the hill.
Stay with us…the next project will come.
Tashi Delek
Andreas Friedrich