Back connected
Today I am writing to you from Everest Base Camp EBC where communications are awesome but come at a hefty price. Let me go back a few days before I have reached EBC.
Pheriche
Located a bit at the end of the world, Pheriche feels very inhospitable and barren. Pressed in a valley surrounded by rock giants it gave me an outlook where our team is supposed to head to.
Thankfully, our lodge was brand new, so we enjoyed all amenities possibile at such a remote location. Pheriche also meant to pass the 4000 meter threshold, which means an extra rest day there. To help acclimatise, we climbed a mountain right above the village for the mere sake to learn that we have overdone it that day. The summit of this peak sits at 5050 meter, a bit too high and exercise for a rest day. When we came down we felt what we have done physically.
I ate as much as I could, drank 4 litres of electrolytes followed by a Paracetamol for dessert.
Lesson learned. Be courageous and say no.
Then in the afternoon I listened to a lecture given by a doctor who is based in Pheriche and works for Himalayan Rescue Association. It was good to review all issues related to high altitude diseases. A worthwhile precaution.
Next days plan was to start early towards Lobuche base camp, which we actually could see from oour lodge in Pheriche. Lobuche (seen right side with ice cover on summit) our acclimatization peak to avoid going through the treacherous Khumbu icefall too often.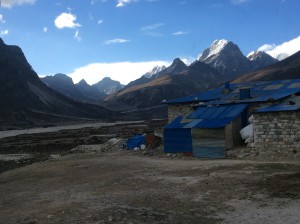 Tashi Delek
Andreas