Puja – Sherpa Religious Believe
Today, Thursday, our Sherpas celebrated their puja. It is a formal and very important religious ceremony to ask the deities for permission to step on the mountain, a safe climb and good karma. No Sherpa would ever dare to climb a mountain without a puja.
Burning juniper is an essential part of a puja. As Sherpas follow their own calendar, we had to wait with them for a good day. Full moon is one of those days, which is today. Thus the puja today.
The ceremony, held by Phurba Tashi Sherpa, 21 Everest summits to his name, was very emotional. We sat in front of a man-made chorten with offerings to the deities.
All offerings were blessed in the puja. Rice and Tsampa thrown up in the air mean establishing a connection with the deities. Later in the ceremony, all sorts of blessed booze were offered to drink like beer, Chang and whisky.
Prayer flags were flying in clear blue skies with Pumori, Nuptse and Everest providing a breathtaking scenery. Personal belongings like climbing gear were brought to the chorten by all team climbers to be blessed.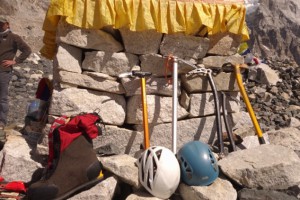 Finally,Phurba Tashi placed a blessed thin band around each expedition member's neck to wish good luck for the climb. Although it is very simple, it means a lot to us climbers. It must be worn until it comes apart by itself.
While the Sherpas prayed, I looked to Everest to finally connect myself with her and Myolangsangma, the deity who resides on her summit. I felt her mercy and will to protect me for which I have asked her many times. Now I feel connected to her. And relieved.
But also felt the insignificance of human mankind in her closeness.
Tashi Delek
Andreas