The Icefall
As we can see the lower part from the Khumbu icefall from our tents, it is something totally different to finally climb through it. Especially during night. This is a fascinating landscape and yet a treacherous area, literally a non-stopping zone. The sounds you here make you very nervous. And there are two ways to protect yourself from being impaired by these sounds. Firstly, the darkness helps you to not realize where you are climbing. The cone of your head torch is the limit of your visibility.
This picture shows the entry to the Khumbu icefall. This season's route is on the right of the icefall. The part you see here is called the lower popcorn field.
Daylight – The curtain rises
However, sun rises at around 4:30 AM and with it comes a worrisome change: daylight. It instantaneously gives you a perception where you climb. And you feel like the ham in somebody else's sandwich.
We had to negotiate horizontal and vertical ladders, tied together and bridging huge crevasses. And here is the second distraction that keeps you calm: concentration on your climb. By this time you realize that you are part of a silent progression of people. Focussed on each move, detached from the outside world and trying to avoid haste but yet climb efficiently.
Dooming seracs are ready to collapse at any time as you negotiate around them. This is a very unpleasant feeling. Scary darkness and daylight.
The Cwm
But finally you feel released when you climb the vertical headwall that marks the end of the icefall. And then you enter the Western Cwm, pronounced Kum. It is a Welsh name.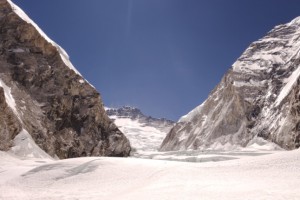 The Cwm is also called the Valley of Silence. It's ovally shaped and the gigantic Lhotse Face marks it's end. Nuptse is on the right with Everest West shoulder on the left.
One must be aware that we are walking on the very active Khumbu glacier. This years route requires extensive zig-zagging around huge crevasses, ladder crossing and climbing steep ice walls. It all looks relatively shallow, however above 6000 m nothing is shallow. Day temperatures in the Cwm can easily reach above 30 degrees while you cook in your heavy down suit. A very strenuous effort to reach camp 2. The yellow dots which are the tents just won't come closer.
Camp 2 – 6440 m
And then you are there at Camp 2 which sits high on a moraine below Everest West Shoulder. Dominated by the massive Lhotse Face.
From our camp site we are able to spot the route to Camp 3 which leads into the Lhotse Face. It makes me humble and my blood run cold. Camp 2 is a very desolate place. And when the temperatures start to drop, then it's down suit time.
Our mess tent is unheated and the only heat generated comes from wearing the suits.
Cozy, but a lot of discomfort as you must even wear gloves to touch the silverware.
After two nights in Camp 2 it was time to acclimate further: to above 7000 m. Most teams here neglect the advantage of going high up, but for members it is vital to know one can survive at Camp 3.
This picture shows the vista from Camp 3 down the Western Cwm towards the icefall with Pumori in the center background. To get there from Camp 2 is a super strenuous and challenging climb. There is no flat ground in the Lhotse Face, just sheer steepness.
Miserable Night
When I reached Camp 3 my altimeter showed 7400 m. Here at this altitude everything is hard work and very exhausting . Your body, already totally depleted and worn out after a 10000 calorie burn, just says No to you. I crept in my tent trying to take off my climbing boots. Believe it or not, it took me 15 minutes. Any move you do up there takes you much longer than lower. Water boiling takes 3 times longer than usual due to the lack of oxygen. When I ate my power muesli I noticed I needed 5 minutes for one little spoon to chew. My appetite was gone. I was incredibly thirsty. Changing socks and t-shirt took forever. At around 5 PM temperatures dropped considerably and I crawled in my sleeping bag to generate enough heat to warm me back up for the frosty night.
A phenomenon called Cheyne-Stokes respiration kept me from sleeping at all. This is an abnormal pattern of breathing. You fall into a minute sleep with deep and fast breathing followed by a temporary stop in breathing which feels like suffocating. A lot of anxiety and unrest give you a hard time to sleep. This is not funny yet normal for these high altitudes. It is part of the adaption process.
We then left Camp 3 in the morning repelling to the foot of the Lhotse Face and eventually to Camp 2. The weather deteriorated rapidly and finally we had to stay in camp for two more nights before returning to EBC where we are right now. The lower altitude at EBC is ideal to recuperate, rest and focus on the final phase of our expedition: the summit push. This is totally dependent on weather and route fixing to the summit.
Professional weather forcasting and analysis plus meticulous route fixing by our Sherpas will pave our way to the summit of Everst at 8850 m. A jetliner cruise altitude.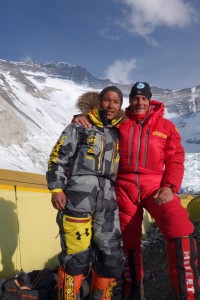 Namgyal Sherpa together with me in Camp 2. Although very young, Namgyal has multiple Everest summits to his name. Simply one of the best and talented Sherpas and one of a group of Sherpas who make me proud to work with on Everest. All of them are very nice characters. What a bunch…
Stay tuned for the final part of Everest Base Camp which will cover interesting topics.
Tashi Delek from Everest Base Camp, 5450 m
Andreas