MountainProjects will help Kagate in four areas: Education, Agriculture, Environment and Resources, Health/Hygiene.
Kagate does not have any schools, just a makeshift converted former cattle shed: draughty, cold, wet, pokey and dirty. It serves as an improvised school for a small proportion of children. The nearest school is two hours away on foot over difficult terrain. Too tiring and dangerous for small children.
This is why we will build a new school in Kagate which gives all 60 children from the village community the chance to attend the school, to learn and to be looked after. The school and its three classrooms will be bright and protected from the elements. Sanitary installations will be made available to the children and teachers in order to guarantee basic hygiene. There shall also be a small kitchen for the children and teachers to cook vegetables which they have grown themselves.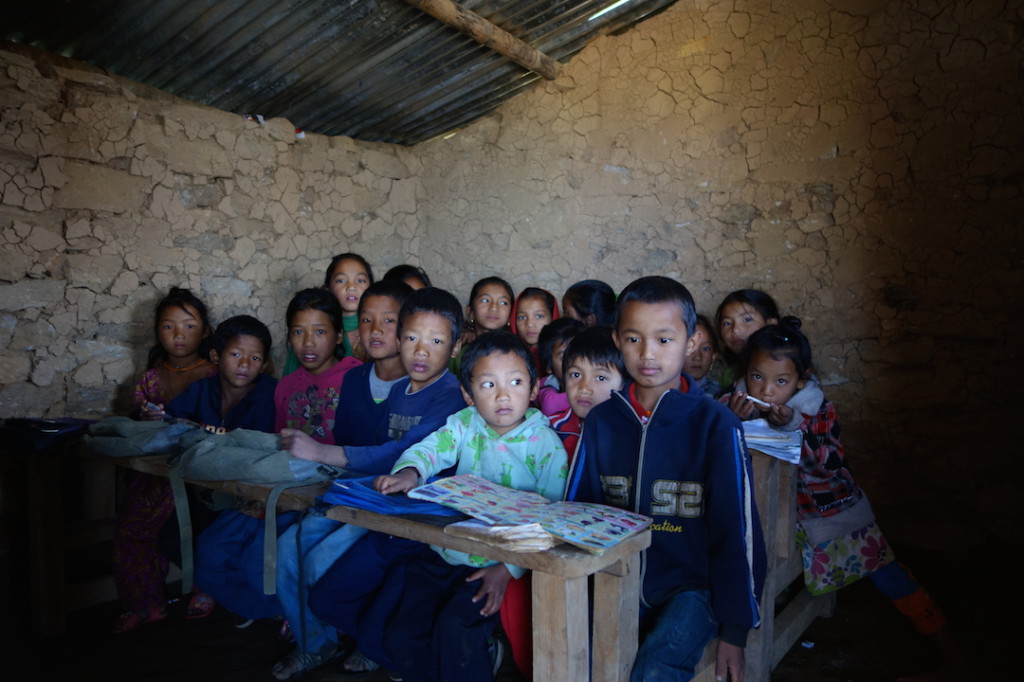 Class in the old cattle shed
Guests who visit Kagate and German teachers who train the local teachers within the frame of TrainTheTeachers will all sleep in the school's guesthouse. An office will be at the teachers' disposal as a meeting and work room.
The school's expansion for up to 60 children will allow children who have up to two hours' journey to school to attend our school instead.
Local teachers will be mentored by German teachers in our supervision program TrainTheTeachers and their abilities will be improved.
We will organise so-called Summit Camps where sherpas convey to the children the importance of the unique capital of Nepal: Nature. Especially talented children, for example, will be lead cautiously and carefully on a sherpa expedition training course under the guidance of experienced and renowned sherpas.
Thamserku 6618m in Khumbu Valley
For every child, sponsors shall contribute stationery, notebooks, schoolbags etc. Similarly, summer and winter school uniform will strengthen the feeling of solidarity. The winter uniform is especially important as the winters at this altitude are really harsh.
Here MountainProjects will help in three areas: medicinal herbs, animal breeding and vegetables.
The medicinal herbs Lauth Salla and Chiraito offer great potential to aid self-help. For this reason, we will build new greenhouses in which Lauth Salla seedlings will be extensively grown, then planted out and grown into bushes in the wild. The bushes' branches will then be sold to traders and imported to India. Chiraito will be grown in greenhouses and then sold as plants to India.
Indian Madder grows wild in Kagate's surrounding nature and from its leaves Majitho is obtained. Traders come directly into the village and purchase it in canisters ready for export to India . The facilities are in good working order for this and production shall be expanded with help from MountainProjects.
Lauth Salla
From the strains of the wild growing daphne, Lokta paper is produced. The production in Kagate had to be discontinued when no money for the repair of the defective facilities could be raised for the village inhabitants. Here, MountainProjects will help with a new boiler and further equipment towards production. The Lokta paper from Kagate will then be sold on in Nepal. Likewise, thanks to MountainProjects, paper shall be exported to Germany and sold via our webshop. All of the proceeds from this will go to the benefit of the village.
Lokta bush
MountainProjects will begin animal breeding in Kagate. Three fishponds for a total of 9000 fish will be excavated. Furthermore, we will support the pig farming and provide the first 20 pigs. We will build the necessary pigsties.
The vegetable cultivation, which is currently in operation in Kagate purely for self-sufficiency, shall be expanded in order to generate proceeds by selling it. Chayote (Iskus), potatoes, tomatoes, garlic, celery and beans grow best in Kagate's humid climate. MountainProjects will build greenhouses for such vegetable cultivation.
Chayote (Iskus)
Half of the proceeds from the agricultural projects will be reinvested and the other half will be distributed to the village inhabitants. The Farming Committee, which discusses all financial interests to do with Lalit and Chhewang who reports to Andreas, oversees these processes. The Committees shall learn to sensibly manage, distribute and reinvest funds.
Environment and Resources
The Kagate people live in an intact natural world. It is worth preserving it. The people shall gain an awareness of the meaning and uniqueness of their nature. Not until they understand that they only have this nature which is the cornerstone of their way to a better future will they preserve their nature.
Green countryside
Workshops will give them an understanding of themes like waste avoidance and disposal, sustainable handling of resources and a sparing use of the fields and terraces. As a result, they will gain an awareness which ensures sustainability.
They will understand that a clean environment is the foundation for eco-tourism (Leave-No-Trace-Tourism). This especially gentle form of tourism will protect their nature and secure them important earnings..
The importance of daily personal hygiene shall be conveyed to the people of Kagate. It is also about developing an awareness. With this awareness, they will understand why they and their children feel better when they are clean.
We will hold workshops so that the village inhabitants themselves learn how to apply basic medical treatment. Dr. Nima Sherpa, a high-altitude medic and extreme mountain climber, will teach medicine, wound care and first aid. He will also give advanced training to a skilled nurse who will then be medically responsible for the villagers. MountainProjects already brought a FirstAid Kit to the village in November 2014 with which villagers' small wounds and light illnesses can be medically treated.
Nima Sherpa will then give information about hygiene and inform parents and children about the importance of a balanced diet as well as the consequences of malnutrition.
Dr. Nima Sherpa, who became Andreas' good friend during the 2012 Himex Manaslu expedition
MountainProjects will closely cooperate in future with Nima Sherpa's project Himalayan Medics to improve the medical care in Kagate.
Here you will find an overview of the work arising in Kagate.
Additionally, MountainProjects wants to help arouse and encourage the individual talents and interests of the children so that they become aware of their personality. Consequently, their confidence will develop. The children will gain perspective towards a self-sufficient life which they can themselves make more sustainable.
We will help them to develop personally and to gain independence. Thus, they will be able to fundamentally change their living conditions and contribute towards the formation of their community, which in turn will strengthen the social structure of their villages/VDC. The children shall develop skills which are vital for life.
Support through the strength and charisma of role models.
Sherpas who have reached their goals and have success shall be role models and encourage children.
Urken Lundrup Sherpa who teamed up with Andreas to the summit of Manaslu 8165m in 2012
Pema Chhossang Sherpa, Sirdar and Andreas' long-term friend promised his participation in our Summit Camps in Kagate to captivate and motivate the children with his story. Both he and Nima Sherpa will tell their own personal story for the children to realise the value of effort and single-minded determination..
Pema Chhossang Sherpa on the summit of Everest 8848m on May 14, 2006
Parents, teachers and also children themselves will be informed about their rights and duties.
Girls are close to our hearts as they are especially disadvantaged. We will explain to all children why equality is important. Boys will understand their role and learn to take a stand for their rights and also the rights of the girls too.