Namaste
first of all, I like to express my gratitude for your active interest in the progress of our Kagate School Project.
Things move forward. Indeed, we were busy and want to share with you today the latest developments. It took us some time. Patience is essential especially in Nepal.
Global heating gains ferocity in Nepal as anywhere else on earth. Monsoon rains hit Nepal heavier than in previous years which led to a standstill of the construction works. The retaining wall we have built in 2016 did a heck of a job in protecting the site against landslides.
Construction Phase 1: The Pre-School
In the meantime, the smaller building of the two of Phase 1 is now in a condition to be utilised as a pre-school for the youngest children of Kagate. Minor works still need to be done here, however to see class started makes us very happy. The second, bigger building containing the teachers' office and a more spacious classroom is about to be finished soon.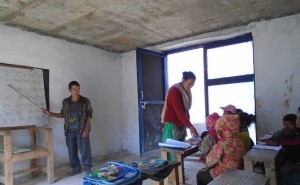 Construction Phase 2: The Main School
Your persistent support and the lectures I gave have generated sufficient funds which enabled us to start the construction of the main school on November 17th, 2017. Once finished, this two-storey facility with four classrooms will serve as a school for the elder children of Kagate who currently  have to cope with the hardships and discomfort of their two hour way to school in Bethali. Our idea is to gain more time for them to study. More child time by a shorter distance to their school. Play, romp, light-heartedness. Basically, what all kids deserve.
Female Quota
We have successfully involved ourselves in convincing the district government in Manthali to make a female teacher possible for Kagate. MountainProjects wants to send out a clear signal to initiate a female qouta. Pioneering to proof that this is possible in Nepal. A country with widespread discrimination against women. We want to encourage the girls in Kagate to take a stand for their rights. The boys to learn that women have equal rights and all to become proud to be role models.
Child Sponsorship
Our valued donors will be able to sponsor children in Kagate after the completion of the main school building. We will make details available very soon.
Team
Bikash Palikhey, the MountainProjects architect, did an amazing job with the architectural design of the new buildings in Kagate and management of the initial construction works. In early 2017, he told me he wants to leave to South America to study alternative construction projects. So in August 2017 it was time to bid him farewell. However, even a couple of thousands of miles away, his heart was still beating for Kagate and when I realised how important his management was to ensure the progress we needed, we one day put our heads together and discussed how to regain him for MountainProjects. I am truly happy that the fire of his passion which still burns in him made that so easy for me. Pure passion – that's what MountainProjects longs for. Dhanyabad Bikash. My warmest thanks.
Bikash's first achievement was to win Anjan Suwal as a site engineer and overseer for Kagate. His responsibilities involve providing technical knowledge, procurement of materials, negotiating prices and cost control. He reports directly to Bikash. Wellcome to the team, Anjan.
Transparent Civil Society
MountainProjects will apply for the label Transparent Civil Society (ITZ) in early 2018. We strive hard to win this great award.
New Account Details
For details of our new bank account, please click here.
Annual Activity Report
Our progress in Kagate is visible. We took the time necessary to make well-considered choices. Your trust in MountainProjects is our obligation to prudently deal with your funds. Your trust is of the utmost importance to us.
We have provided the financial authorities with an illustrated annual activity report which is available here for you. Thereby, we create transparency and you can learn what we have accomplished through your donations. I truly wish to thank Lizz and Graham Kelly for their proofreading which gives the report the utterly required official character.
Your trust in MountainProjects makes us very proud. We will certainly need it in the future to help the children in Kagate get the best start to their education. And to ensure that well over 90% of all funds go directly to the project.
Thank you all for your support.
Andreas Friedrich
Founder and Chair
MountainProjects e.V.
Donate Education . Change Lives